When products for your company have to be delivered over great distances in a short time, it is necessary to use efficient airfreight services. When a firm needs to acquire specific components, tools, or essential things rapidly from a number of different suppliers located in a number of other regions, airfreight transportation is an exceptionally useful option.
1. No downtime.
Compared to other surface transportation forms, air cargo services are the most dependable, safest, and fastest way of shipping. In light of this, why would it be beneficial for your company to use airline cargo to save time and resources?
When products are transported or picked up using airfreight, there is no downtime, which means that your important inventory won't spend time sitting in a storage facility or warehouse. There is no downtime when you send or pick up items using airfreight.
Because of this fast turnaround, airline cargo operators and ground handlers can speed up the shipping process, making them considerably more efficient with your cargo. Because your inventory remains on the same plane during the entirety of its journey, it experiences a reduction in the number of handlings. Because of this, there is a significantly reduced likelihood of a shipment being misplaced or damaged because it will not be loaded, unloaded, and stored multiple times.
Customers also have the benefit of working with a single point of contact throughout the entirety of the shipping process. This means that they speak to the same expeditor each time they call and are spared the inconvenience of repeatedly providing their account information during phone conversations. They can receive real-time tracking updates and notifications on their mobile devices through text messages or emails, allowing them always to be aware of the location of their shipment.
2. It is quick to travel.
There is only one kind of freight delivery that can cover extensive distances in a very short amount of time: airline cargo. When transporting your consignment, airline cargo services will choose the path that is both the quickest and the most efficient by taking into account the prevailing weather patterns and the volume of air traffic at the time. Your shipment will reach in good condition and on time if you make the effort to identify various routes to the place it is intended for, even if there are unforeseen delays or extreme weather conditions to contend with.
When businesses ship their goods via airfreight, they don't have to worry about the travel disruptions that can occur on the ground, such as traffic jams, road construction, or automobile accidents, which can add a significant amount of time to the delivery or pickup process.
Air cargo, airfreight, and air charter are three examples of the many types of air transportation that may accommodate a wide range of package sizes and even the most stringent of delivery windows. Additionally, each aircraft is inspected to guarantee that it complies with the highest possible capacity and safety criteria.
3. You get prompt service.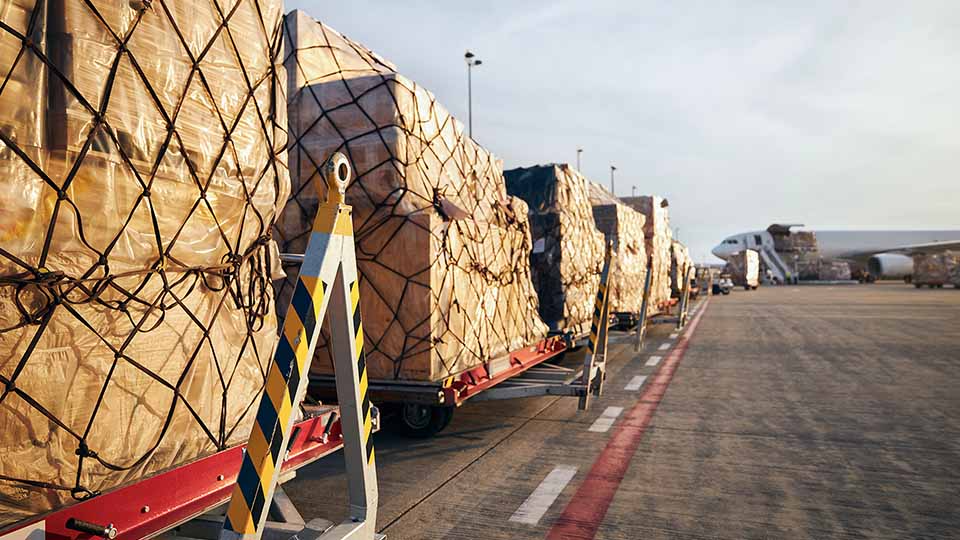 After determining the dimensions and carrying capacity of your consignment, logistics providers will immediately identify the method of air transport that will pick up or deliver your items in the quickest and most cost-effective manner possible. After you have employed their services, the information pertaining to your account will be maintained safely within their client database. They will have instant access to your account details the next time you require cargo to be delivered, saving you significant time.
4. You have the ability to transport your freight to practically any location.
As bottlenecks in supply chains continue across a country, firms in that country start looking to alternate suppliers in neighbouring countries. To our good fortune, every nation can be quickly reached by aeroplane. In addition, air freight is subject to different limits than ground transit or expedited ground travel, which can include things like delayed traffic, challenges with the weather on the ground, road closures, and other similar obstacles.
Air freight can reach difficult or remote delivery sites that other modes of transportation cannot access since it can travel over congested or heavily populated areas.
Air freight services might help you start fulfilling your stringent deadlines.
Galaxy Freight can assist in getting your cargo to its destination on time and in the correct location. Get in touch with us right away to receive a free estimate.
Five reasons you should make Galaxy Freight your primary expedited freight shipping partner.
Shipping emergencies do not occur daily, but when they do, you want to avoid scrambling to find a solution when the productivity of your business or thousands of dollars in sales are at stake. Because of this, it is essential for you to locate a firm that offers fast freight delivery, respects both your money and your time and can be a reliable long-term partner.
Even the most well-prepared businesses are finding themselves in a position where they must deal with challenges they have never encountered in the past because of recent disruptions in the supply chain and retail shortages around the world. This is especially true in the present day.
It is essential to have a strategy and know who to contact in the event that the worst-case scenario occurs if you are the manager of a warehouse, plant, or factory. The following is a list of the top five advantages that Galaxy Freight has over its competitors in the shipping industry:
1. You'll get immediate assistance, which will save you time.
When you call Galaxy Freight to dispatch or pick up a package, an expeditor instantly begins working on the process and collecting data as soon as they receive your call. As they receive new pieces of information, they immediately get to work, which includes researching the most cost-effective plan and pricing options for the job, evaluating any pertinent traffic or weather conditions, and determining the routes that are the most easily accessible and travel the quickest. When using Galaxy Freight, you can rest assured that you will spend less time waiting around for responses, even if those answers are time-sensitive.
2. Avoid dealing with call centres.
The same expeditor communicates with you throughout the entirety of the shipping procedure, beginning with the pickup and continuing all the way through to the delivery, and they are available at any time, day or night, 365 days a year. This ensures that there will be no needless wait times while reaching a customer service centre. In addition, you won't have to go through the aggravating process of being transferred to many agents while you wait for the information or tracking updates you require.
3. Ensure that you have a single point of contact that is solely responsible for you and your cargo.
Your one point of contact does a thorough review of each plane to guarantee that it has the capability and resources necessary to safeguard and transport your shipment from the point of pickup to the point of delivery. This ensures that your shipment will arrive at its destination in a timely manner and without any unpleasant surprises. The most exciting part? You will be able to acquire the best and most affordable rate possible thanks to the transparent payment options and the absence of any hidden delivery fees that we provide.
4. Assuring that your shipment will arrive in good condition.
Any damage occurring while the item is being shipped is unacceptable, and it is possible that it will no longer be usable after it is received. Because of this, we adhere to the highest possible safety standards during our deliveries by utilising secure packing, which protects the pallets and the products from being damaged.
Shipments manufactured using Galaxy Freight are also handled less, which implies that the inventory is far less likely to be handled badly or carelessly. This is because there are fewer people involved in the process. Our shipments will only waste time waiting in warehouses or distribution centres for a carrier to become available since they won't be there. After the inventory has been collected, it is promptly delivered to the previously determined location.
5. Establish a collaboration with a long-term perspective.
After you have used our service to send or receive a shipment, the relevant information from your account will be saved in a database for use in subsequent shipments. When a consumer signs up for the service for the first time, a few more steps are involved in the onboarding process; however, once payment conditions have been determined, the process moves rather fast. In addition, sophisticated logistics software compiles information regarding available pilots, drop-off locations, pickup schedules, and other relevant details.
Find out more information about the services offered by Galaxy Freight.
We have the potential to be the ideal option, saving businesses a substantial amount of time and money, whether you need to make a pick-up at the last minute or deliver perishable items on a tight deadline.