When it comes to moving large or bulky cargo, air freight is one of the means of transportation that is the most effective. In addition, it is safe and dependable, and there is no risk of human error on the part of the staff or of running out of fuel at a crowded airport. However, despite the fact that air freight is more cost-effective in the long term (in comparison to alternative techniques such as ship-and-fly), it can be expensive when it comes to the upfront fees of airfreight. Because of this, many businesses opt to use an air cargo forwarder instead.
Before deciding to hire one, there are a lot of things you need to think about and take into account first.
Key considerations when choosing an airfreight forwarder
1. What is the size and scope of your business?
Do you ship large items as well as small ones? How frequently do you need to send packages? What is the average value of the packages that you send out? Ensure that the freight forwarder you hire can meet all of your requirements before hiring them.
2. What is your budget?
Because of the high cost of shipping, it is essential to take your finances into consideration when selecting a freight forwarder. Get estimates from multiple companies and compare pricing.
3. What are your shipping destinations?
Your freight forwarder ought to be familiar with the customs requirements of the country to which you are sending packages. Additionally, they should have good working relationships with the airlines as well as the other providers of transportation in those countries.
4. What are your shipping deadlines?
Do you require express shipping, or can your products be delivered within a few days at the very most? Check to see that the forwarder you chose can satisfy any deadlines you may have.
Tier of Service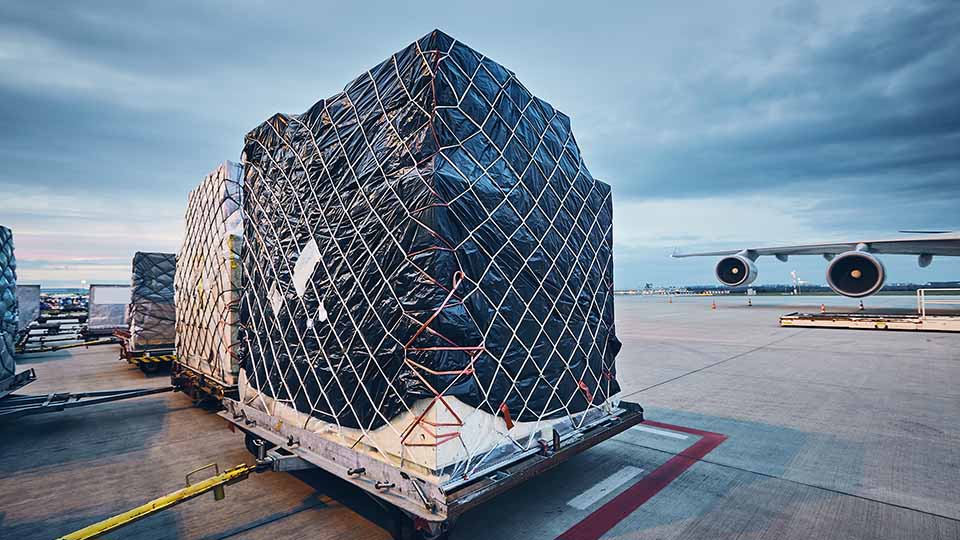 Before contracting the services of an airfreight forwarder, it is essential to be aware of the various tiers of service that are on offer. The following are the three primary tiers of service:
1. Basic Service: This is the most fundamental level of service that is provided by airfreight forwarding companies. If you have basic service, you may anticipate that your freight will be moved from point A to point B without any further frills or extras being provided.
2. Standard Service: Standard service is an upgrade from basic service and typically includes additional services like tracking and insurance. Basic service is the entry-level offering.
3. Premium Service: The premium service is the greatest level of service that is offered by airfreight forwarders. This service often includes all the bells and whistles, such as door-to-door delivery, real-time tracking, and full insurance coverage.
When looking for an airfreight forwarder, you should make it a point to inquire about the various tiers of service that are available from that company. This will allow you to choose the level of service that is most appropriate for your requirements based on accurate and up-to-date information.
Cost
You will spend less on shipping if you work with an airfreight forwarder since they will help you consolidate your shipments and negotiate better rates with the airlines. They will also help you save time by handling all of the paperwork and logistics associated with the international shipment, which is a necessary part of the process.
However, the cost of employing the services of an airfreight forwarder is not zero. You will be responsible for paying for their services, which can cost anything from a few hundred dollars to several thousand dollars depending on the magnitude and difficulty of your shipment.
Product Handling Standards
When it comes to choosing a freight forwarder, there are many important factors to consider. One of the most important is their product handling standards. Here are a few things to keep in mind when assessing a freight forwarder's product handling standards:
-How does the freight forwarder handle fragile or delicate items?
-Do they have experience shipping perishable goods? If so, what are their procedures for ensuring that goods arrive fresh and unspoiled?
-How does the freight forwarder deal with hazardous materials? Are they trained and equipped to handle these items safely?
-What is the freight forwarder's policy on damaged goods? How do they ensure that products are protected during transit?
By keeping these factors in mind, you can be sure to choose a freight forwarder with high standards for product handling. This will help to ensure that your shipments arrive safely and on time.
Insurance Conditions
It is important to make sure that the company you are working with has adequate insurance coverage. Otherwise, you may be responsible for damages if something goes wrong during shipping. It is also a good idea to get a copy of the policy to review.
Track & Trace and Paperwork Requirements
When you are shipping by air, there are a few things you need to take into consideration before hiring an airfreight forwarder. One of the most important things is tracking and tracing your shipment, as well as making sure all the necessary paperwork is in order.
Tracking and tracing your shipment is essential in ensuring that your goods arrive at their destination safely and on time. Your airfreight forwarder should be able to provide you with updates on the status of your shipment at all times. They should also have a system in place for dealing with any potential delays or problems that may arise.
Making sure all the necessary paperwork is in order is also crucial. You will need to provide your airfreight forwarder with detailed information about your shipment, including what type of goods you are shipping, their value, and where they need to be delivered. Your forwarder will then prepare all the necessary documentation and submit it to the relevant authorities.
Customs Clearances & Customs Documentation Requirements
Customs clearances and customs documentation requirements can vary depending on the country of origin and destination of your shipment. It is important to consult with your airfreight forwarder to determine what documents will be required for your particular shipment.
Some common documents that may be required include a commercial invoice, packing list, bill of lading, and Certificate of Origin. Your airfreight forwarder can help you obtain these documents if necessary.
It is also important to note that some countries have restrictions on what can be imported/exported. Be sure to consult with your airfreight forwarder to determine if there are any such restrictions for your shipment.
How Airfreight Forwarders Work With Third-Party Agents?
There are a few things to consider when you are looking to hire an airfreight forwarder. One of the most important factors is whether or not they have experience working with third-party agents.
Third-party agents are organizations that provide services on behalf of another company. They can be used for a variety of tasks, such as customs clearance, warehousing, and transportation. Working with a third-party agent can save your business time and money.
However, it is important to partner with a forwarder who has experience working with third-party agents. This will ensure that your goods are handled properly and arrive at their destination safely and on time. Make sure to ask about this experience when you are interviewing potential airfreight forwarders.
Distance to Beam Point/Territory Limits
When you are shipping freight via air, it is important to consider the distance of your shipment to the beam point or territory limits. The beam point is the location where the aircraft's fuselage narrows and the wingtips begin. The territory limit is the outermost zone in which an airline can fly. If your shipment is going to be close to either of these limits, it may be subject to additional charges.
Be sure to ask your airfreight forwarder about these potential charges and how they would impact your shipping costs. It is also important to understand that these limits can vary by carrier, so be sure to confirm the details with your chosen airline.
To sum up, before you hire an airfreight forwarder, be sure to keep these 8 considerations in mind. You'll want to find a company that is reputable and has experience handling shipments of your size and type.
Be sure to get quotes from multiple companies so that you can compare rates and services. And finally, make sure you understand the terms and conditions of the contract before signing anything. By following these simple tips, you can be sure that you're hiring the right airfreight forwarder for your business needs.